I'm feeling very pleased with myself. I somehow managed to actually follow instructions and use
Ravelry's
download pattern facility for my Tippet.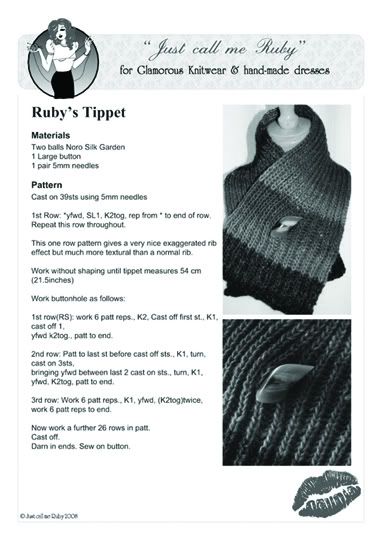 Please excuse the image being in black and white - not quite sure what I did wrong then when I made the jpeg copy. The actual download is in colour. And I've managed to add it to the side bar of my blog! Actually its all down to
Gudrun
, who gave me excellent instructions on what to do. I would have been lost without her. Thank you Gudrun. Ravelry provide figures of the number of downloads and since 10pm last night 31 people had downloaded my Tippet pattern. I find that quite amazing. Before the internet, and before Ravelry, would that have happened? I doubt it.
My aches and pains were getting to me yesterday, so to cheer myself up I placed a 'little' order with
yarnmarket
. I ordered the second Loop d Loop book from Teva Durham/Stacey Charles.
I loved the first book in this series and a good while ago, bought some of Teva's Moss yarn for a project from the book, but this is still in my to do pile. I also ordered Norah Gaughan/Berroco book 2 - again loved the first book, bought yarn.... you know how it goes.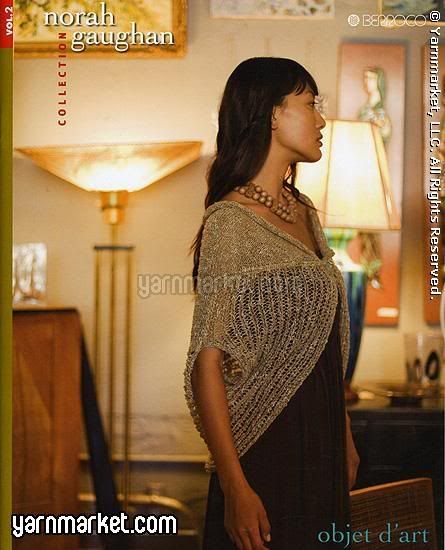 Then to make the postage worthwhile a pack of the new Berroco yarn, Seduce in this wonderful sexy and indeed, seductive jewel colour
and 6 balls of Twinkle 'Soft Chunky' in peach with a tension of 6sts to 4 inches. Not quite sure why but just have an urge that I need to follow.
I love the colour of the Seduce yarn and it looks a really interesting yarn. The write up on yarn market says the following:
Crafted with fine Italian craftsmanship in a corded, slightly nubby strand, "Seduce" helps you knit & crochet a light, lustrous, breathable fabric with little effort. We especially enjoy the way each of the fibers absorbs the dye at different rates for a luscious tone-on-tone sheen. Beautifully spun of 47% rayon, 25% linen, 17% silk & 11% nylon.
Hope its as good as it sounds.
Other than that, its one of those posts, with secret knitting projects that can't be revealed or talked about. With losing so much of last week through my neck related problems I really feel up against it at the moment. I have a number of garments to get done for the
knitonthenet
photoshoot and the patterns finished so they can be uploaded ready for the March issue coming out on 22nd. (I think its going to be announced today so I'm ok saying the date). I'm really pleased with my designs for this issue and desperately want to make sure they are all ready on time.
I've also been working on
A Stitch in Time
, which again is top secret, but I can say its looking fantastic. Every garment that's been knitted up I want. Knitwear design in the 1930's and 1940's was so beautiful, with such attention to detail and exquisite finishing touches. Working on the book is definately influencing my designing and really emphasises how much there is always to learn. A project I've been looking at has little crocheted buttons that you stuff with cotton wool, or old 'nylons' or oddments of leftover yarn from your project so you have yarn left to darn with that has been washed along with the sweater and will therefore look the same when darned in!
To paraphrase Eliza Doolittle, 'I want to knit all day, I want to knit all day, I want to knit, knit, kniiiiiiit all day!'
for now
Ruby xxx