Now you know where I've been for the last couple of weeks. I am deliriously happy with how my patterns look, the magazine is the best yet, and is really finding its feet and direction. I am even more happy that I actually got all FOUR garment designs finished in a 12 week period. I had knitting help with one, but I knitted three of them completely myself.
So let me introduce to you:
Miss Scarlett
- knitted in
lazykate handspun dk
, which was an absolute delight to work with. I'm going to knit this again as soon as I can for me, as unfortunately this one is a display piece (and doesn't fit!)
Wink Wrap cardigan
- this is the Bowmont Braf yarn I mentioned in an earlier blog, again so lovely. I've been very very lucky for all these designs to get to use such beautiful yarns. When you get the best tools and materials you do your best work.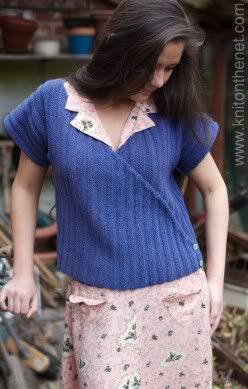 Barbarella
- I LOVE this design, but worried that maybe it wouldn't appeal to everyone, and yet on Ravelry its the most popular garment design from this issue, so it just goes to show you should trust your instincts. This one used
knitshop's
pure silk. They have some fantastic yarns and Julieta is so lovely.
Dilly
- this one was such great fun to knit. I've been desperate to do some colour work for a year or more, I used to do so much of it but now very rarely do and it was great to get back to it. The wool from
Biggan Design
was a dream aswell. It was just like painting, I had 64 colours on my palette to choose from, and it made designing this cardigan so much easier. I love the construction of it,with the textured sleeve head and the neck tie. I've got several different versions of this one worked out already.
I was a bit hurt on Ravelry yesterday when I found a rude comment made publically on a forum about one of these designs, not constructive criticism or even a private message to me, just publically rude. I took the very unusual and uncomfortable step for me and responded to the comment, and was not unsurprised to find that the author hadn't even considered how the designer would feel on reading such a comment.
I love the internet and I love forums and chat rooms etc., I just think it is so easy to say something online that you would never dream of saying to someone's face. I don't think anyone of us would go up to someone in the street and tell them what they were wearing was ugly, particularly if you knew they had made it themselves, so we shouldn't be doing it on forums. Anyway, off my soapbox now - what was lovely was that I received several PM's apologising for the other people's behaviour - from people who hadn't even done anything wrong themselves.
Enough of all of that. What next? now issue 5 is up. Next week I have to work on something very quickly for a design that is going in a book. Can't say anymore at this point, but its due in at the end of the month, and I've actually got some personal knitting to finish. And tomorrow, the back wall of my house is getting knocked through to the extension, six months after it started.
for now
Ruby xx
edited 08/08/08