This post was going to be a very different post to the one I'm posting now. I had had a wonderful day out with Charlie for her 17th birthday but then early the next morning I got a call from Dad telling me that mum was taken ill. She was rushed into hospital but in the space of about three hours had two major strokes. At first she couldn't see or hear at all. She can now see slightly but cannot understand anything that is said to her.
We do not know at this point how long it is going to take for mum to improve and hopefully recover. My dad and I are going in to see her for several hours each day. This is obviously going to impact on my time to do other things including blog, but I'm going to do my best to keep posting, as certainly at night, after visiting is over, the urge to relax and knit is very strong. However, if things don't go according to plan I hope you will understand.
I'll talk more in a few days but in the meantime if you can spare a positive thought for mum we would be so grateful.
Mum on stage at about 4 or 5 years old.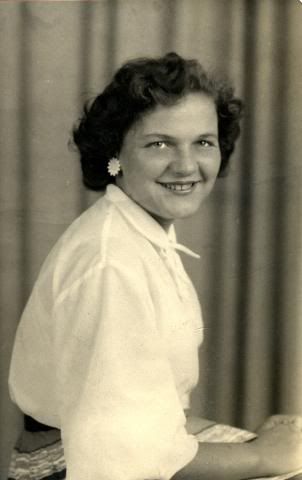 In a typical 1950s pose.
As Diana Rigg in the Avengers!
Love you mum.
for now,
Ruby xxx