Impressively, I managed to prepare a blog post about a fortnight ago and then didn't get it quite finished. It remained unposted and is now unfortunately obsolete.
Since I last posted we have managed to get back to work to some degree and were able to have our stall at the I Knit Weekender. I had a great time, meeting lots of lovely knitting folks and signing books. I also gave a talk on why I love vintage knitting which people seemed to enjoy and also ran my Make Do and Mend workshop for the first time. This is a workshop I would really like to do a lot more of. I'm certainly hoping to do a lot more workshops in the future so watch this space! I even managed to say hello to the lovely
Alice Starmore
, who was very sweet.
I've managed to do a fair bit of knitting but I've only one to share today. When travelling down to Fibrefest in Devon a few weeks ago I started work on a gauntlet design that would be easy to knit whilst travelling. The gauntlets are knitted side to side in garter stitch with short row shaping for the wrist, cuff and thumb. A provisional cast on is worked, so that grafting together of two garter stitch rows can be worked giving a completely seamless glove.
I used
Jamieson & Smith Shetland Aran
which is really, really lovely to work with, and used two balls in total plus a small amount of a contrast colour for the edging which is worked with a simple double crochet row. The buttons are vintage and I used three different pairs, one on each gauntlet.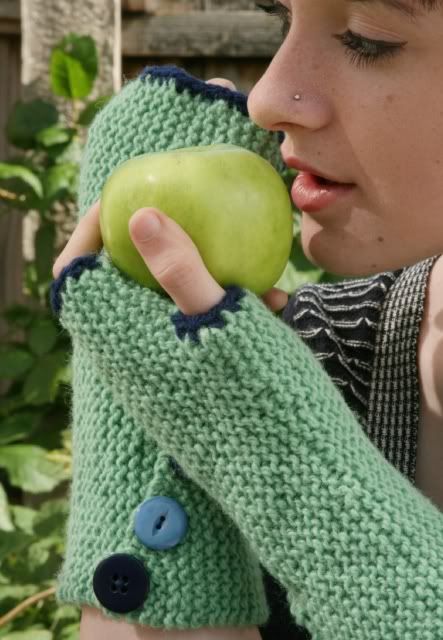 And the model is my lovely Charlie - of course!

I've managed to set up my Ravelry shop (which believe me is quite an achievement for me) and the pattern can be purchased as a pdf download for £2.75 by following the link above.
I've also made up some kits all using different vintage buttons and the Jamieson & Smith yarn but I haven't got those online yet. I'm determined to make this working from home/full time self employment work!
Mum is making slow but steady progress. Her sight hasn't as yet improved unfortunately but she is beginning to pick up words that we say here and there and seems a lot brighter in herself. I'm so grateful for all the support I have received from so many people and I hope one day she will be well enough for me to explain to her just how wonderful everyone has been. Thank you once again.
I have a lot more to show but will leave it at that for today as I have to drive Charlie to a concert in Manchester shortly and hope to see "Julie & Julia" while we wait. So much more to share but
for now
Ruby xxx