The day finally dawned yesterday when our fashion show was to happen at the
Cath Kidston
store in Liverpool.
The main aim of the evening was to promote knitting and to hopefully get some non-knitters to pick up needles and have a go. The fashion show combined selected garments from
A Stitch in Time
with those from the latest Cath Kidston clothing range. The Cath Kidston staff laid on tea, cakes and jam sandwiches which went down a treat.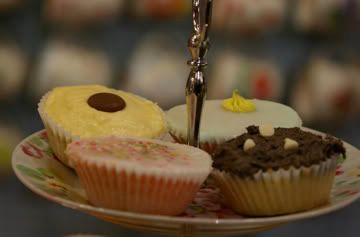 The cakes were all made by the lovely Genevieve, seen posing below in the Diagonal Rib cardigan in royal blue
The show got underway with Lianne very bravely coming out first in The Call of the Sea
The brief for all the models was 'ham it up' and enjoy themselves which they all did fabulously
This is the adorable Yuki in Greet the New Season playing at being a domestic godess.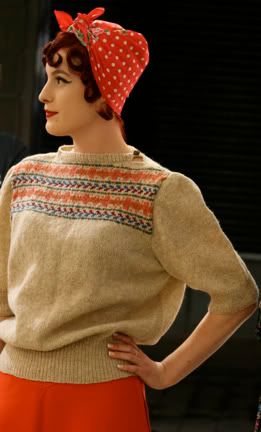 Lianne following in the domestic vibe using a Cath Kidston handkerchief as a turban - they are the perfect size and shape.
A certain amount of frivolity ensued and the urge to reveal knitted underwear became to much for some people to bear -
This young lady is Meg, who had no fear of the catwalk at all, modelling the Blackberry cardigan
followed by Sunray Ribbing
She shows really well how the garments can be worn in a casual way.
We gave Light and Lovely and Enchanting in Black and white a playful feel with vintage shorts and skirt respectively
Frilly Jumper is modelled by Suzie who looks really elegant here. She's also wearing my great grandmother's polished jet beads and earrings.
Yuki is wearing my daughter's dungarees for a modern take on the Land Girl look. The jacket is a second version of To Set off your summer frocks which I finished sewing up on Monday night! This time I used Pure Castlemilk Moorit with 30% silk from
The Natural Fibre Company
. The firm texture was perfect for this jacket which needs a lot of body for the sleeves to stand up.
I think this is my favourite look of the night actually.
Next is Michelle looking slightly more demure showing off Made So Quickly rather than her undies!
Not to be outdone Lianne closed the show 'revealing' her Slimline Undies
The store very kindly let me have a table just for the books
I was rather tired by the end of the evening but I did agree to one photo of me in my own Made So Quickly and Cath Kidston Tea Dress - looking slightly relieved that we had got through it all ok.
And finally here's my favourite photo of the night of all the girls together
Thank you girls for a really enjoyable evening.
for now
Ruby xx
All photographs courtesy of Charlie Moon