As I mentioned in my last post, we held a little fashion show at the Make, Do and Knit event. The models all volunteered their time and did a wonderful job, getting changed in little more than a cupboard and doing it very quickly.
The first preview garment is this quite formal and very elegant jumper. The body sections are knitted in different directions in rib and then dramatic pleats are added at the wrist and around the neck creating almost victorian ruffles. This jumper is from the early 1930s and I have used Jamieson and Smith 2 ply jumper yarn for this one.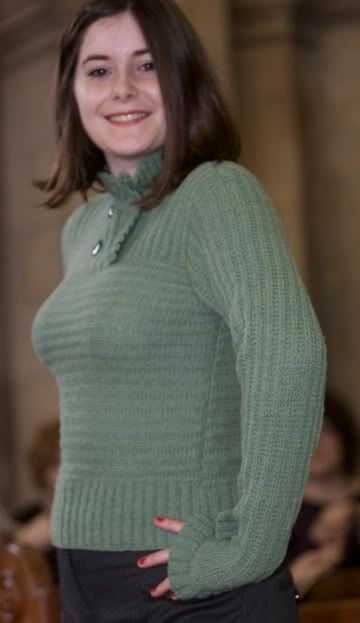 Image courtesy
Sam Sloan Photography
The whole garment is very dramatic and severe but very flattering.
This next jumper is also predominantly knitted in a rib stitch - as so many were in the 1930s - but has a really interesting bobble stitch worked at the sides of the garment. The sleeves are ribbed and the neck is a boat or slash neck. Other than mastering the bobbles this is a very simple knit with very little shaping, relying on negative ease and the ribbing to create the fit. I have used a 4ply cashmere and merino mix for this one with a slight marl in the yarn to add textural interest.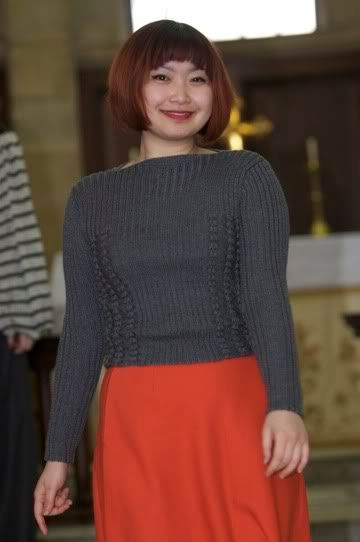 Image courtesy
Sam Sloan Photography
Moving forward, is this delightful little jumper from the 1940s. Incredibly easy to knit with decorative ruched stripes of 'ribbon' effect colours across the body. Little bows are added afterwards. There is an opening at the back neck with contrasting buttons. The pretty puffed sleeves are helped with small sleeve pads knitted and sewn in place. I have used a 4 ply merino yarn from Biggan Design for this one, which is due for release shortly I believe.
Image courtesy
Sam Sloan Photography
I have used the yarn for this next one before. This is Posh Yarns, cashmere and silk mix which was used for the 1930s cami bockers in Volume 1 - there was still enough left to knit this absolute wisp of a jumper. I really wanted to try a jumper in a very fine weight yarn. The original pattern is actually for a one ply yarn and although this yarn is more of a 2 ply it is still the lightest, most delicate thing you have ever seen. It also knits up surprisingly quickly. It has dainty picot edges on the sleeves and neckband and a pretty bow knitted separately and then sewn in place. It also has a back neck opening. The little knot stitch worked on the main body and sleeves stops the knitting process being boring. I just love this one, I really do. The whole thing weighs practically nothing!
Image courtesy
Sam Sloan Photography
Moving on to the 1950s, no collection from this period would be complete without a simple crew neck cardigan. This cardigan is knitted in Jamieson and Smith lace weight yarn and is the perfect spring cardigan. The front panels provide interest whilst knitting and is a very simple knit.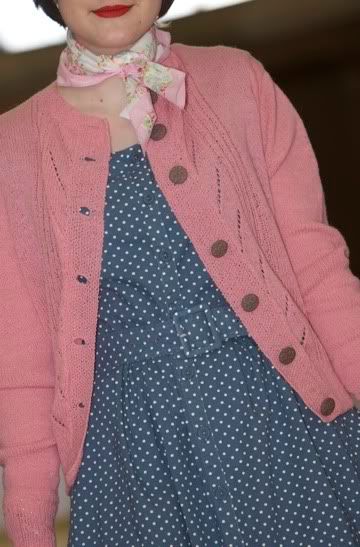 Image courtesy
Sam Sloan Photography
Unfortunately, I've only really got this one photo of the cardi but hopefully you can see enough of it. Its one of those that you'll need in 6 different colours!
So finally, on to full on 1950s glamour. This top is knitted in Knitshop mulberry silk which is a thick 4 ply and the garment still came out tiny, really tiny. The waistband is knitted separately and sewn to the body and then a zip is sewn into the side where the waistband ties. If you knit this one, don't try and do it without the zip - you won't get into it! The flattering neckline compliments the wearer and the decorative cuff adds glamorous detail to the wrist. The black edging and bows are crocheted - the bows are sewn on at the end. The knitting is actually quite straight forward again but cleverly constructed to create that real 50s shape. Time to get out the waspie!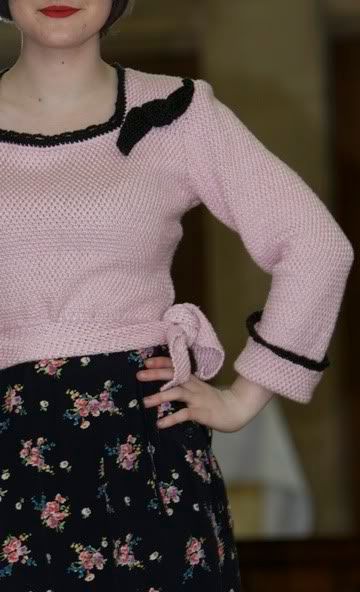 Image courtesy
Sam Sloan Photography
I hope you have enjoyed this little taster of what is to come. I love every single one of them, and have been delighted how amazingly well they suit and flatter everyone who tries them on. But for now, back to the knitting.
Ruby xxx