I recently returned to Shetland to visit the
Shetland Museum
Archive, where I am working on a very special project in collaboration with the Museum. The Museum houses an incredible collection of hand knitted garments, many from the 1920s-1940s. All of this knitwear has been made by people (usually women) living and working on the Islands.
The Shetland Museum
Much of this knitwear has been kept either by family or descendants of recipients and at some point the decision has been made to donate the garment to the Museum collection. As you can imagine many of the pieces have deteriorated considerably over time and as none of these pieces of knitting have written patterns the garment itself is the only record of the effort, the design, the history.
Only a small selection of the knitwear is on display at the Museum itself, the remainder is housed in an archive building elsewhere on the main island. This is where I spent several days examining, photographing, measuring and transcribing stitch by stitch a selection of these garments.
Here I am in the process of transcribing a jumper from the 1940s.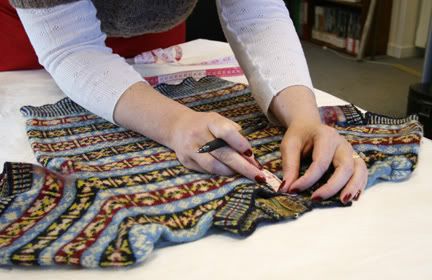 From this information I will choose about 18 to 20 of the garments which I will then write multi sized patterns for. The task of knitting the garments to match the originals as closely as possible will then begin. Once all this has been done and the patterns have been tested and checked and the stories behind the jumpers written and the photographs taken and the artwork, layout and printing done, Vintage Shetland will be published!
This is obviously a long project and the work has only just begun but I will be sharing progress as I proceed.
We managed to have a little time off while we were there and attended a 'Hamefaring' - My good friend Connie of
Jamieson & Smith
had married in New Zealand earlier this year and the hamefaring was held for those of us who couldn't make the trip. Unfortunately I didn't get any photos of the evening but I learnt both a waltz and a reel. The next morning Gavin and I went for a walk around the headland.
Here I am in my Beret for Country Walks from
A Stitch in Time
.
I have another trip this weekend, this time to Devon, and then I'll be back to prepare for the publication of
Vintage Gifts to Knit
- Yaaay!
for now
Ruby xxx