Whilst on my holidays I was working on the Textured Tunic with side buttons by Stephanie Japel ( in her fitted knits book)as shown below.
and I have almost completed it twice and have frogged twice and have come to the conclusion that it just doesn't suit me.
I love the colour and the yarn but there are certain factors that just aren't right for my body shape.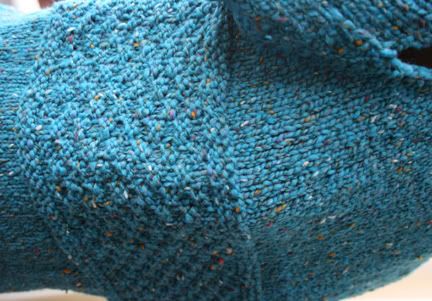 The textured panel sits right across my ample bosom and to be honest just makes me look chunky not shapely, despite the fit being perfect. Also the length is at just the wrong place for me. The tunic style of the garment takes the front under my tummy and then sort of goes in underneath exaggerating my tummy and then sits on the top of my thighs and won't lie flat. I've tried different lengths but its just not working. I must admit I don't like the large moss stitch insert on the sides of the garment for the buttons they just widen the hip and bottom area. So I've played and messed, and reknitted but to no avail. The textured panel needs to go, the length and fit needs to change and I don't like the curly stocking stitch on the neck. So what to do. I was sitting outside a cafe and saw the back of a very simply shaped sweater with a nice stitch detail and thought that would look very nice in my yarn. I took a photo on my daughter's mobile phone but unfortunately it is still locked since she lost it so I will draw some sketches for my next posting.
I also managed to complete my second sock
The pattern needs a little tweaking to fit me perfectly, the heel is too long and the foot a little wide, but they are so comfortable and I have been wearing them constantly around the house.
In addition I finished off a very special garment for the republication of 'A Stitch in Time'. I can only show a little bit of it but it is just beautiful. It used Blue Sky Silk and Alpaca yarn which is the most wonderful of yarns. I've just got to write up differences to the original pattern
The completed garment will be revealed at Stitch 'n Bitch UK in November.
Also for 'A Stitch in Time' I'm working on this one, using Habu "kusaki zome" naturally dyed silk.
Again, it will be revealed at the Stitch 'n Bitch show. Really enjoying doing this one. Its quite a challenge getting the garments to fit todays woman without changing the styling or fit of the original garments but fascinating.
And finally, I did also take Fifi with me to start but just didn't get there. I think that it will have to go on the back burner for now.
for now
Ruby xx