Well actually its partly online, as there are still articles and additional patterns to be added but I have two patterns to share with you for now.
The first is
Truffle
, which is made from Cashmere Canapa from Lanaknits. It is truly beautiful yarn to knit with and has fabulous drape once knitted.
This is Truffle worn as a sweater which is how I would wear it, with the separate cowl neck. I get really hot and bothered when I have a polo neck on when I come indoors and this is the perfect solution for me.
Here's a close up of the cowl. Very simple but very handy. It could be knitted longer to work as a hood - a SNOOD! I didn't think they would be making a come back but they are so useful.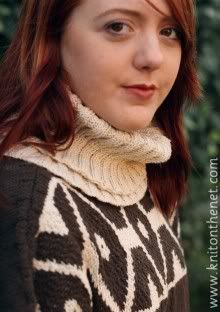 Another option is to wear Truffle as a trendy sweater dress
It would also look good with a belt round and worn as a tunic with another layer underneath.
I'm really pleased with how flexible this garment has proved to be and the variety of body sizes it fits is amazing. Helen, the model here a size 34 inch chest and me a size 42 but fit into the same garment. Its fab.
My second design is called
Celia
. I designed this scarf after experimenting with stitch patterns in the Encyclopedia of Needlework printed around 100 years ago. There was a plate of a beautiful stitch pattern but I couldn't make a lot of sense of the way it was written. Also when I sampled it the written pattern didn't give you the same border as shown in the plate. However, once I had got my head round the language it made sense and I felt it was perfect for a delicate but warm lacy scarf for wearing with a more formal coat, which is how it is shown here.
This is a close up of the stitch detail
Now you may notice there are matching gloves and there is a matching glove pattern which will be following in the next few days. Unfortunately the pattern has gone astray and I will have to rewrite it and check it before it goes into the magazine.
I hadn't given the design a name until I saw the lovely Theo modelling it and I immediately thought of Celia Johnson in Brief Encounter, with those beautiful eyes, so sad. So I named the design after her. She and Trevor Howard have got me through many an afternoon's marathon knitting session.
There is also another design to come but the pattern isn't ready yet.
The other exciting news today is that there is a three page article in the Independent on Sunday devoted to A Stitch In Time. You can read the article
here
Unfortunately they only show one of the beautiful photographs used in the printed article. Its been done as part of a larger piece about a return to austerity - more thoughtful living. Its very exciting. Who would have thought a book about knitting would be given three pages in a national newspaper. "The times they are a changing".
for now
Ruby xx