Picked by Charlie's own fair hands the winners of the mystery knitting competition are
Ms Lestat
Isis
and
Alabama Whirly
Ms Lestat actually had the closest guess of anyone so I am particularly pleased that her name was picked out of the hat. If you could all email me at ruby[at]dentrassis[dot]com with your addresses and I will get your vintage prize sent out to you as soon as possible.
Congratulations! I do hope you like the goodies I have picked out for you.
So what was I knitting? It was actually part of a three part set which I have called Hugs and Kisses because of the resemblance of the stitch pattern to kisses. The proper photographs are not yet available but Charlie made herself available once again and here she is, in her Dutch Bonnet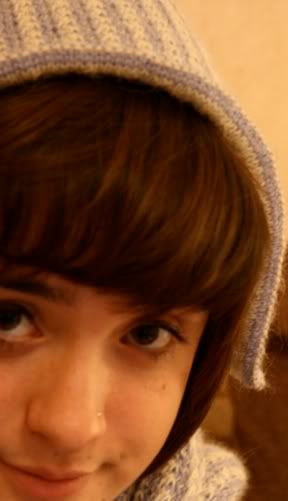 A real favourite of the late 40s and 50s this pretty little hat comes with a separate enveloping scarf - see how close you were Ms Lestat?
and snug mittens - not yet photographed. The bonnet is knitted in one piece using different yarn combinations and needle sizes, plus it will have an applied I cord around the lower edge to match the mittens which have an applied I cord right around them. At the front edge a contrast turning row is worked and the under layer of the hat is worked and then sewn in place on the inside of the hat. If knitting the hat for a child the I cord can be extended and used to tie in a bow under the chin.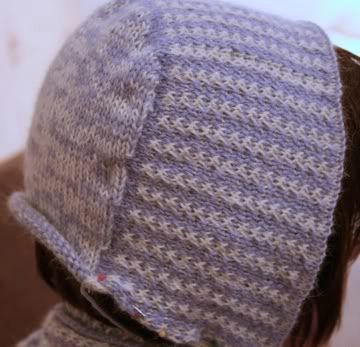 You can see on this photo that the I cord hasn't been knitted yet and how the hat grows from the centre back panel.
All three pieces come in the one pattern so you can pick and choose which you knit and all three use this lovely textured stitch which is a really pleasurable knit.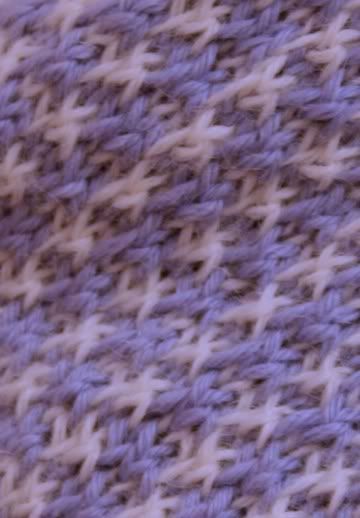 The stitch does feature again in one other item in the pattern booklet but I'll keep that a secret for now. Interestingly some of the items that have been mentioned do appear in the booklet but I will tell you more about those at the end of the week.
On Saturday night Charlie went to a fancy dress party where the theme was the circus and clowns and she went as Pierrot. We had a lovely afternoon customising her outfit and then doing her make up. She looks quite different to the sweet little thing in the photos above.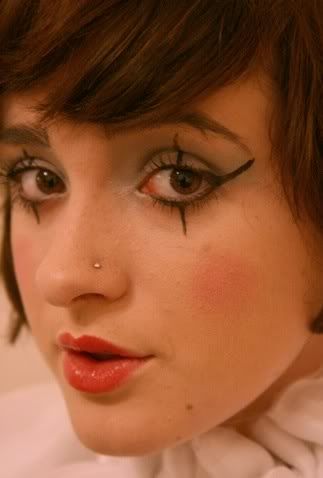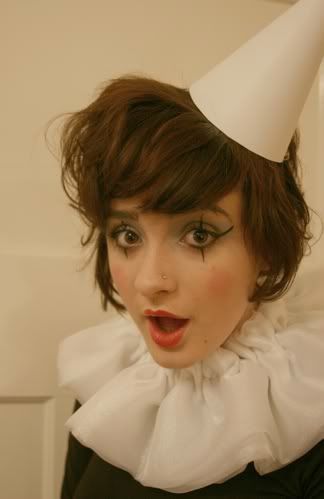 I have to say, I just love doing fancy dress on other people. So if anybody needs me you know where to find me!
On that note, congratulations once again to the three winners but
for now,
Ruby xxx