Over the last few weeks I have been working on a very special project. A little knitting pattern booklet called "Vintage Christmas Knits". It features between 12 to 15 vintage inspired and adapted patterns from Victorian time to the 1950s, focusing mainly on the 40s and 50s. It will be available to pre-order in the next week or so in both print and digital versions. The 'proper' photos aren't done yet but here is a sneak preview of a couple of the designs featured.
This is the perfect 1940s christmas sweater in classic red and white, to fit a wide range of sizes. Just enough kitsch but not too much with that quintessential sweater girl shaping and christmas motif. It is knitted in
Jamieson & Smith
2 ply Jumper Yarn.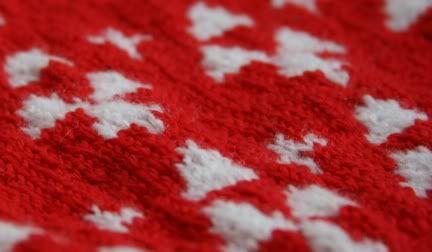 The repeat pattern almost looks like snowy peaks!
The next design is still a bit of a secret, but will give you something to think about.
This is inspired by a late 40s, early 50s design but I have reconstructed it completely to make it an easier knit.
It is knitted in 4 ply alpaca yarns and is dreamily soft. The main part of the design which is on the photo is worked in a simple slip stitch.
Sometimes your favourite part of a design is a detail, something that not everyone will even see. Its the case with this design. I really, really love how this section looks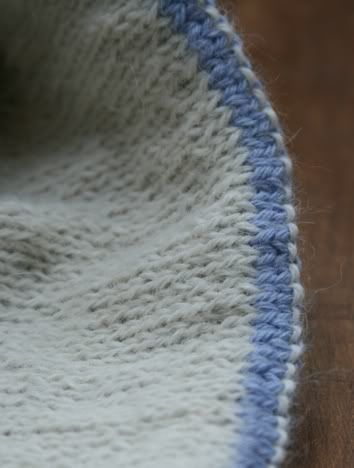 Nothing complicated but completely different from the original design which had the piece you can see sewn in place rather than joined as you can see here. This just works so nicely I think.
I'll reveal more next week but I would love to see in the meantime if someone can identify exactly what it is that I'm knitting. And as an early christmas treat I have a little goodie bag of vintage patterns, buttons and yarn to give away to the winner who I will draw at the end of next week. Just leave a comment on this post saying exactly what you think it might be.
Good luck!
I am also hard at work at some other secret knitting for
The Knitter
. I am very excited to have a number of patterns coming out in their magazine from about March/April of next year. For now however this is all I can reveal.
And finally, the
Knit a Poppy
Appeal draws to a close at midnight tonight. Donations have surpassed our wildest dreams standing at present at £2632.00. Its quite astonishing, thank you all so much. There is still time however if you would still like to get your poppy pattern by making your £2 donation
here
.
I have been asking for images of the poppies to put on the
knitonthenet blog
and here is a very special one from my lovely husband, Gavin, who daringly decided to knit his poppy this year from embroidery thread and 2mm needles. I think its come out fantastic. The centre is a vintage button.
This tiny little poppy is about the third of the size of the original but is knitted to exactly the same pattern on 2mm needles. Particularly great for men who might want a more discreet poppy to wear.
Hope to hear from you all soon,
for now
Ruby