Issue 4 of
knitonthenet
went live a couple of days ago and in my usual disorganised way I'm only just managing to blog about my new patterns. I love this issue. I am planning to make
Limulidae cowl and hat
by
Neal Swain
Its a beautiful design and would be so useful.
The first of my designs is my first foray into sock pattern writing.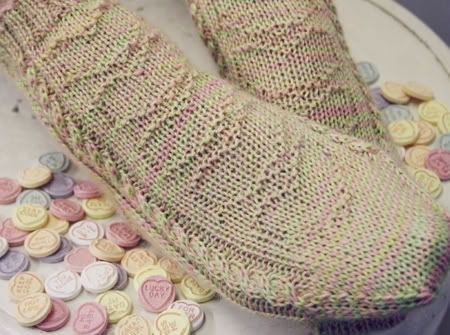 These are
Love Heart socks
named after my favourite sweeties of the same name. I used Natural Dye Studio's gorgeous Alpaca and Silk 4ply yarn. It is beautiful.
I normally make socks up as I go along so it was a good discipline to write a properly structured pattern this time.
I'm really pleased with the gusset on these socks. Come out so nice.
I've talked alot about Giles Deacon this season and my
Giles bag
is my homage to his oversized cables.
I so enjoyed making this bag and particular loved making the handle out of a giant sized cable.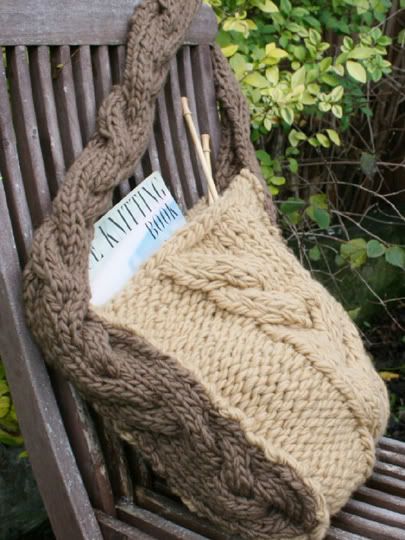 There's so much more I want to explore using cables like this.
And finally my lovely
Blanche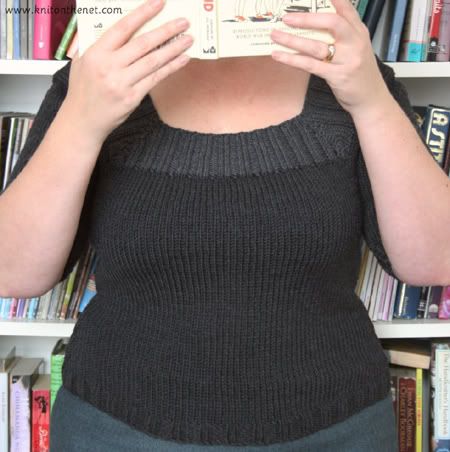 This is going to be one of those patterns that I'm going to knit again and again, sometimes with some changes, sometimes exactly as is. It is just a perfect sweater for every occasion and so flattering. I love her.
I struggled naming her though. In my head the whole time I was designing her was Elizabeth Taylor in Cat on a Hot Tin Roof but in it she's called Maggie (the cat) but the name just didn't fit. So I ended up having a Tennessee Williams moment and thinking about Streetcar named Desire thought about Blanche Dubois and the name seemed just right. I'm going to make a green Blanche over christmas. I would also like to make an evening version using something like Tilli Thomas Exotica for the neckline.
I went and picked up a BIG package yesterday from our sorting office from my lovely secret pal
Eeva
also known as Rieppa, who has spoiled me so completely its as if christmas came early.
Here is my package
There is a gorgeous tin box featuring the Moomins (which my daughter loves, but isn't getting!) beautiful beads, these wonderful surface protectors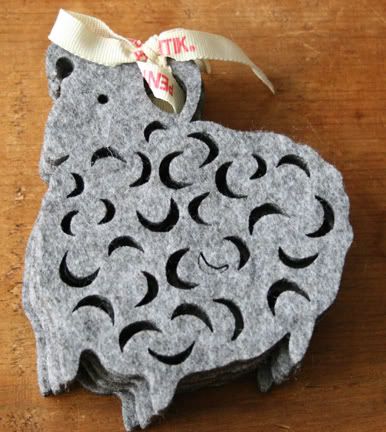 aren't they just fantastic.
Now for the yarn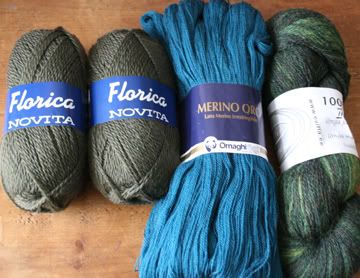 from the left is Novita Florica 100% wool. I have a couple of Novita pattern books and love their yarns. Next is Merino Oro from Ornaghi filati of Italy, pure wool. I dont know this make but the yarn is beautiful and would make a lovely shawl.
Next is an Estonian yarn Evilla with fabulous sea kelp shades of green and advise from Rieppa about a
pattern
for it.
And if all thats not enough, this gorgeous hand dyed wool/alpaca blend from
Juuli
I'm speechless Eeva, what can I say? Thank you so much.
And now, drum roll, long overdue, the first part of finishing off Sloppy Joe from Rowan Studio 6.
My first step was to do Short row shaping and three needle bind off on the shoulders so there is no internal bulky seam on the shoulders. This is how it looks from the right side
with just a nice line of chains sitting on the shoulder. The stitches highlighted on this photo make it a bit clearer which are the bound off stitches.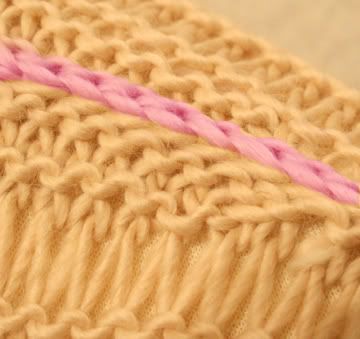 So, to work this method you have to work differently to specified in the pattern from just before 'shape shoulders and back neck'. Instead of finishing with a RS row facing, stop with a WS row facing and then knit the row, stopping at the point where your cast off stitches would be on the next row. I'm knitting the large, so in my case I would knit up to the last 11 sts on the left needle, wrap the next st by slipping the st and taking the yarn round it, turn the work, and work back for 14 sts (for the large), turn, leaving rem sts on holder.
Cast off 3sts for centre back neck, knit across rem sts, knitting wrapped st in with wrap. Leave these sts on a holder.
Cast off centre sts as directed in pattern then work other side to match reversing shapings.
The front shoulders are worked in the same way. To be sure you have each shoulder right remember that shoulder shaping slopes down from centre back. Place shoulders of front and back together with WS facing inwards, the slopes should match. Put stitches back onto a needle each, then with a third needle knit 1 stitch from 1st needle together with 1 stitch from 2nd needle, repeat, then cast off 1 st on 3rd needle off over 2nd st on 3rd needle. Continue until all stitches are cast off. Repeat on other shoulder. If you turn the sweater inside out there is no seam at all.
NEXT TIME - PICKING UP NECKLINE STITCHES
for now, (I'm going to lie down in a dark room)
Ruby xx