Alpaca.
To be precise,
Blue Sky Alpacas
. I finally took delivery of the pattern I have been waiting for
It still doesn't seem to be available anywhere in the UK, so in the end I ordered it from
Purl
in New York. It only took about 5 days and it was here. But obviously, to make ordering from New York worthwhile I ordered a few more which include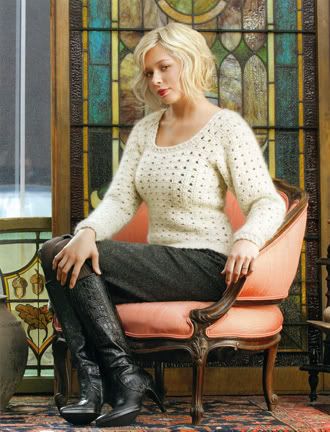 this gorgeous crochet sweater in Suri merino
and
the equally lovely fitted jacket in Bulky Naturals.
I've long wanted these two patterns aswell so am very pleased. The 1940's gown is in Alpaca Silk which is one of my favourite yarns. I used it recently to knit 'something' for the forthcoming 'A Stitch in Time' book and saw it and many other lovely things get photographed for preliminary publicity at the weekend. I can't say any more on that front but wow, wow, wow. I just can't wait to see it. My friend, Theo, of the
Shellac Sisters
was one of the models. You will also be able to see her modelling a design of mine in the next issue of knitonthenet. The other model is
Fleur de Guerre
, who is a professional 1940's model. Which brings me to
B is for....
Butterflies
At the end of a very long days photography, Fleur agreed to pose in my butterfly dress to finally get some professional photos for the website in waiting. I am just delighted with the photos. Fleur just looks fantastic. She even managed to look beautiful and poised standing in shoes that were TWO sizes too small for her. What a Star!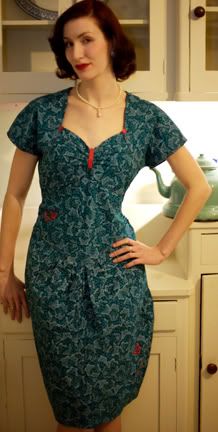 Beautiful.
Hair was done on the day by the wonderful, talented, funny, warm Nina of
Nina's Hair Parlour
. She is the best hairdresser on the planet. She even put my hair up in a 40's rolled style which I'll show photos of in the next blog. It was so complicated and she did it in ten minutes, and it stayed in all day. Genius. I struggle to even tie my hair back successfully! I love Nina.
so finally
C is for ....
Claudette Colbert
We all need a muse and she is mine. Not only is she beautiful but she was a woman very much in control in an era and a business where not normally so. She became at one point the highest paid actress in hollywood and even dictated how she was photographed. The caption on the photo is inaccurate. She was actually born in 1903 and died in 1996. One of the most fascinating things about her I think, was that she was cast in Bette Davis' role in All About Eve then fell and badly hurt her back. Bette Davis' then got the part. Life is full of twists.
The photo is from Hollywood Knits by Bill Gibb, published in the 1980s but unfortunately out of print now. It features publicity shots of hollywood stars in knitwear and Bill Gibb has then created knitting patterns from the photos. The garment Claudette is wearing is high on my list of to do's. And if I think Claudette would be happy to wear a garment I have designed I'll be very happy.
for now
Ruby xx