Its been a very busy week with very little time for blogging or, unfortunately, even for knitting. However, the post I've been waiting to do is about my trip to our local antiquarian bookshop. It is situated on the balcony of a wonderful victorian arcade and has all the atmosphere and charm you would expect, even down to a special reading room that only invited customers are allowed into. (More on this later)
I made several purchases the first of which is the Patons Story of HandKnitting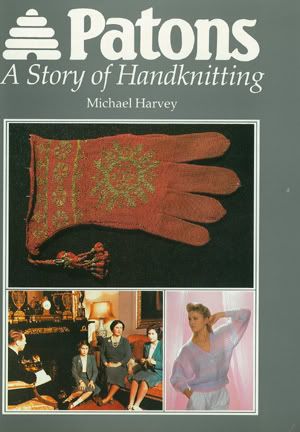 It was written back in 1985 so the 'current' knitting trends are somewhat dated, but the historical side of british handknitting is fascinating. On the back cover is a picture from an early Patons publication which I'm very fortunate to own, but more importantly, its how I imagine myself and my life to be when I'm knitting.
I'm afraid I don't often seem to experience such serenity, but I keep on hoping!
The second book I purchased is one of the Batsford series, which I now have a fair few of. This one is the Complete book of Traditional Knitting by Rae Compton
This book looks at traditional knitting patterns from Shetland, Fairisle, Aran, Iceland, Sweden, Central Europe - the list goes on. A very interesting book.
The third book I bought is this one
and it is glorious. 860 pages of techniques from 'faggoting' to 'punch work', which both sound like something which used to happen in victorian taverns to solitary sailors on their way home!
The illustrations, such as this one, are beautifully executed
I think these instructions on sewing a collar are brilliant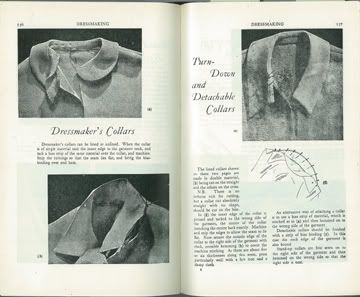 Such detailed explanations and so clearly illustrated.
I love this page on how to swiss darn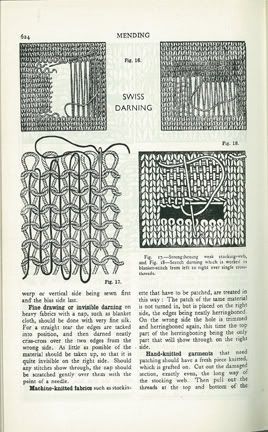 Each picture is a little work of art.
I did get to go in the special reading room to pick two books for my valentine's present. I haven't been allowed to have them yet, so I will have to reveal them after February 14th. But the room was wonderful, there was an emormous leather club armchair in front of a cast iron fireplace and mahogany bookshelves from floor to ceiling. There were the most beautiful volumes of children's stories which I was also very tempted by, but even my man has his limits, so I chose my two special books and left the magical room behind. It almost felt that if you looked behind you, it wouldn't be there anymore.
Finally, back to my Patons story of handknitting book. The inside cover has these two fantastic illustrations of shade cards from the original Patons range.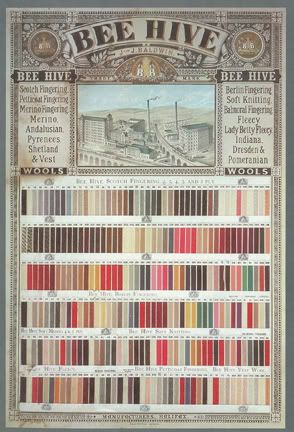 some of the yarn names sound incredible, like Lady Betty Fleecy, Petticoat Fingering (ooh er missus!) and Pomeranian. In the Beehive Scotch fingering there are 132 colours available in 2, 3, 4, 5 and 6 ply. Heaven!
for now
Ruby xx