Despite not getting any sewing done recently I couldn't resist buying these fabrics a few days ago when I went to a very exciting but hush hush meeting. The floral cotton is called Barefoot Roses which is such a beautiful name. I bought a smaller piece of the spotted fabric to put with the floral as a trim.
I just love the colours.
I also bought this Amy Butler pattern which I'm considering using with these fabrics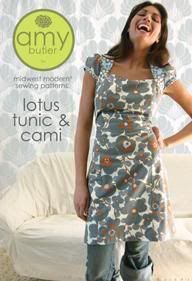 Its a very different shape for me and although I really like it I don't really think the tunic shape is right for my shape. I think its going to be tight over the hips so I might incorporate the top section which I love into a different skirt shape. I'm going to start with a toile of the existing pattern though and see what I think. I'm probably going to have to move the waist position and make the skirt shorter.
I've been thrilled at the number of comments I've received this week, Its great to 'meet' some of you for the first time. I will try and reply to everyone over the weekend. Don't forget there's still time to post before the end of the competition on Saturday morning for your chance to win Knit so Fine. There's even a Knit So Fine Kal and blog now
here
for now
Ruby xx