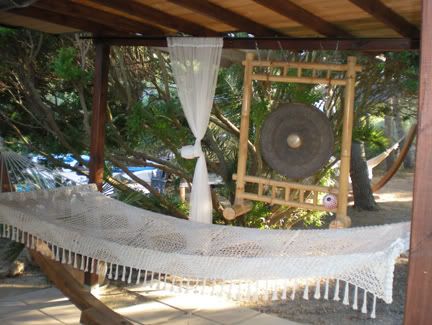 We've just returned from our family holiday to a beautiful villa in the heart of the Ibizan countryside, where all we have done is swim, sleep, eat, read and knit (a little). I had hoped to blog before we went away but the last 24 hours before we went away took a turn for the worst when I asked my lovely daughter for the twentieth time to give me her passport (which she was looking after herself because she's a big girl now) and IT HAD EXPIRED!
At first I didn't panic as we are quite near to the main passport office in Liverpool, and they operate a 24 hour premium service. So we rang to arrange for her to go the next day to replace her passport to be told they had commenced a three day strike and there were no appointments available and we couldn't go to the office without one as security would turn us away. The lady at the end of the telephone was unfortunately, very unsympathetic. So we had a cry and a panic and tore our hair out for a while, and then decided to ring again. This time we got the loveliest of people on the phone, who did say the same thing that there were no appointments available but to get down to the office at 8 am the next morning with everything necessary and to beg! It was not the most comfortable 24 hours - but finally at ten past four in the afternoon she had a new passport and we were able to go on holiday.
Whilst there, I did manage a little of my planned holiday knitting although only in the early morning when it was relatively cool.
I knitted most of my
Lost in Music cover up
, I have about 4 inches to go then just the cuffs to knit.
I also cast on and did the first pattern repeat of
Taj Mahal
by
Gudrun
, using some lovely Habu Silk in a wheat colour.
I also took Orchid from the latest knitonthenet on holiday with me to get some photos of it around the pool and on a 42 inch chest as I think its a really flattering design on those of us more well endowed ladies. Here's a little selection of it from different angles - and the pool, the lovely, lovely pool!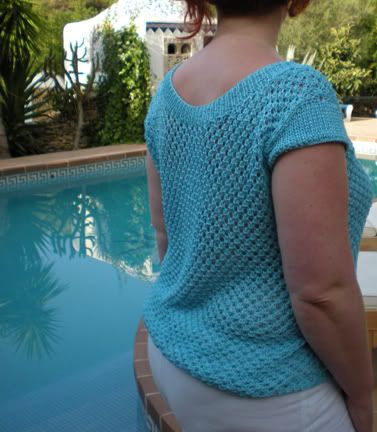 Charlie is sixteen today. I can't quite get over it. My little girl is a young lady. We are out for a family meal this evening with her nanna and granddad and then taking her to Liverpool in the week to get her long awaited IMac laptop ready for college but for now
Ruby xx