My version of Frolic is progressing SLOWLY but successfully. I have knit the body in the round
and am very happy with the side seam shaping. I think it works really nicely. When I reached the bustline I thought I would try some additional shapings. Being of a 'fuller cup' I didn't really want the ribbing just to stretch and distort over my bust so rather than do the last round of increases I positioned increases in the front of the garment to create bust shaping - cups almost -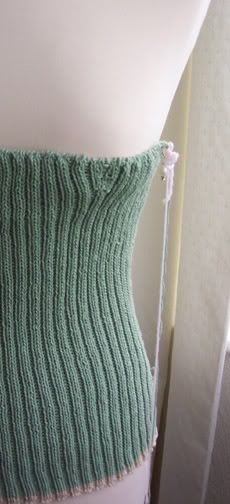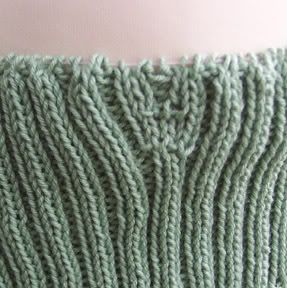 I hope this will make a better fitting garment. I am going to knit the sleeves in the round and join them to the body and work the raglan shaping all in the round. At this point I can try it on again and make sure it fits neatly around the shoulder or if necessary work some decreases before casting off.
My camera has just died again. Its very tempremental - I think I probably need a new one but I seem to go through cameras like water and they are expensive things plus I don't like having to throw them away. I have some swatches for my 'paper bag' from knitty, http://www.knitty.com/ISSUEspring07/PATTpaperbag.html but as yet have not been successful photographing them. They will follow shortly.
Immediately before my camera expired I took photos of the beautiful wild foxgloves that the kind birds have brought into our garden. This is one of many:
Aren't they gorgeous.
Well, for now
Ruby xx