First of all may I thank everyone who has sent best wishes to myself and Mr Ruby. You are all incredibly thoughtful.
This is the scene that greeted people as they walked through London on Saturday lunch time. The Wateraid river being carried through the London streets to Downing Street in peaceful protest.
What a fantastic sight.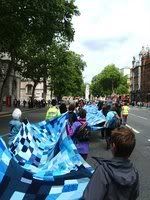 Congratulations to everyone who took time out to carry a section of the river. It is now to be cut up into sections and passed on to be used, if anyone knows of charities who need knitted blankets/throws maybe you could let me know and I'll pass the names on.
I have made a number of knitting decisions and treated myself to a bit of an book buying spree this week. I have purchased a second hank of the beautiful Lorna's Lace yarn (from Get Knitted) that my secret pal got me and an equally beautiful pattern to make myself this pair of socks.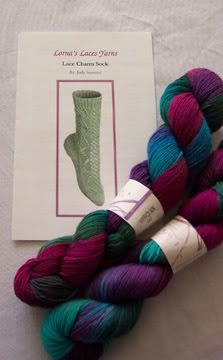 I haven't knitted socks for quite a while so hope I dont' get SSS.
I have also purchased some Lana Grossa Royal Tweed to make this sweater out of Stephanie Japel's Fitted Knits
I was originally going to make it the colour as in the photo but couldn't get the colour in the UK so have opted for this lovely blue with mustard flecks
My final knitting purchase of the week was Runway Knits by Berta Karapetyan of Karabella Yarns. What a lovely, lovely book. There are so many very wearable, elegant, well shaped garments in the book I don't know where to start. The shaping Berta has done on many of the cabled garments is just sublime.
I think this is going to be a very well used book. Classy, quality designs.
I have been going through a very favorite book of mine called Blueprints of Fashion by Wade Laboissonniere, which shows pattern envelopes from the 1950's. It doesn't actually include the patterns themselves but the inspiration it provides is limitless. I am working on a number of ideas combining 1950's fit and drape into knitted garments. I should have some illustrations in a few days.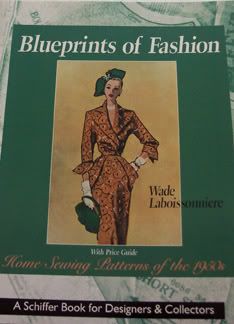 I have also finally decided which yarn to use for my second Sexy Knitters KAL which is Rusted Root
I have purchased some Brown Sheep Cotton Fleece in Holly Green. I saw one of the other lovely sexy knitters wearing this and finally knew it was the right colour, and then found out that I could get it in the UK which I hadn't realised. Its an incredibly economical 80% cotton/20% wool mix. 215 yards to 100g ball for less than £4 per ball. It only takes 4 balls to make a medium Rusted Root sweater.
I haven't started knitting with it yet but it feels lovely. The merino in it adds just enough softness. I have pressed on with my Frolic in 4ply cotton on circulars but progress is slow, though attractive. I'm definately going to need at least one project to knit alongside it to keep me going.
This is where I'm up to, have just started increasing after working waist decreases and working straight for the waist. Love the colour combination. Don't know when I'm going to finish it though. The needles are Susanne's bamboo circulars that I get from Scottish Fibres and they are gorgeous needles. Very smooth to knit with. They don't seem to get much press but I love them.
And my last treat, three wonderful craft books, at least one of which I know the entire blogging world seems to be talking about.
All three are very nice books. There is a bit of duplication in the projects and you probably wouldnt need all three unless you are obsessed like me. My daughter found the Lotta Jansdotter very easy to follow and loved the clear paper patterns that came with the book. She is doing Textiles GCSE and is finding it very useful. I wouldn't like to pick a favourite although the Jansdotter book is beautifully made. There are things in each of them that I will use.
And finally, I am off to Wales at the weekend to Wonderwool Wales, celebrating welsh wool, yarns and craftsmanship. I will no doubt buy even more yarn, and might possibly not fit in my house for very much longer. Its a good job my beloved really, really loves me or I could be in real trouble.
for now
Ruby xx