I hope the image above gives a clue as to my recent blogging absence. I got married last Friday. It was a wonderful day shared by close family and friends. Unfortunately in the week leading up to it I didn't get very much time to knit! Which is really very unfair. However, I took some knitting away on honeymoon with us, but, sin of sins, forgot to pack a sweater, and when the weather turned I felt very stupid.
We only decided to get married 7 weeks ago and am very proud of how we managed to get everything organised. I don't think I would change a thing. I bought my dress from Monsoon Wedding range 'off the shelf' and felt like a million dollars (without spending it).
We have spent a few days in the Lake District at a beautiful old hotel, in a room with its own balcony were I managed to sit and knit. I received a wonderful gift from my Secret Pal just before we left. How cleverly thought out - a crystal champagne flute with a hank of champagne coloured pure silk yarn from Habu Textiles inside. I must have the best Secret Pal ever.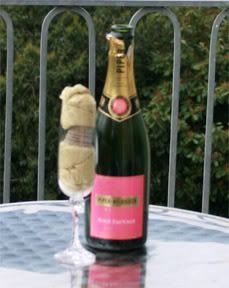 Finally I have lots of news on the knitting front which I'll blog about over the weekend.
but
for now
Mrs Ruby xxx