There is a lot of frantic knitting going on behind the scenes, but so much of it I am unable to share, which is so frustrating but them's the rules.
However, I finally managed to take some photos of a couple of WIP's which have been hanging around for a while but are slowly but surely progressing.
Here's Miss Scarlett No. 2 - for me. This is to fit 40 inch chest - Dita is about 32-34 so it looks rather large on her, but its looking nice and the RYC Cashsoft DK is a joy to knit with. I have a family function to go to next weekend but I don't think it will be ready for then I'm afraid.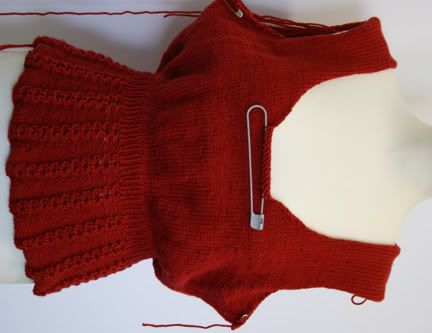 And here is my Teva Durham sweater. I thought this would be a quick knit but to be honest its not at all.
I'm really enjoying knitting it (despite the 'squeeky' yarn) but every row is different and you really can't get into any sort of rhythm. I found it easier not to use a cable needle and hold the stitches on my finger instead which has speeded the process up quite a lot.
and the cables are really beautiful, like a landscape in blue.
The back is already done and I've started the raglan shaping on the front. The two sleeves are different to each other aswell so that's going to take time, but I do think it will be worth it.
I'm also working on a 'top secret' project which has to be ready in the next week or two, and I'm using Rowan Fine Milk Cotton, which is a cotton and milk protein mix. I've no idea how they use milk protein in a fibre. All I can see in my head are the huge vats that milk is put into when first being turned into cheese and it gets stirred with a big paddle. I can imagine the cotton being put into the vat with the milk and then being mixed together.!
Looks quite ordinary on the swatch , but has a beautiful handle. It actually feels 'creamy' if that makes any sense, and the drape is far superior to a pure cotton.Its a gorgeous yarn. Not particularly cheap but really really nice if making someone a baby gift and you need to avoid wool but want something softer than pure cotton. I'm definately going to use it again.
I spent all of yesterday knitting and I couldn't believe my luck with films on the TV one after the other,
garment back to Roman Holiday - the serene Audrey Hepburn and the dashing Gregory Peck.
garment front to The Prince and the Showgirl - a rather bizarre Laurence Olivier and a breathtakingly beautiful Marilyn Monroe, who had the tighest, sexiest dress on throughout the film and made me proud to have a large bottom!
Sleeve one and half of sleeve two - The Da Vinci code - too much set in the dark for knitting to really, but ok for stocking stitch work, and you know the story so you can sort of cope when you miss bits.
Sleeve two now finished and on to yoke (?) and then sewing up.
Oh, one last bit of very good news. Earlier this week my dad got the all clear from the cancer specialist and he now doesn't have to go back for twelve months. Big sigh of relief.
for now
Ruby xxx