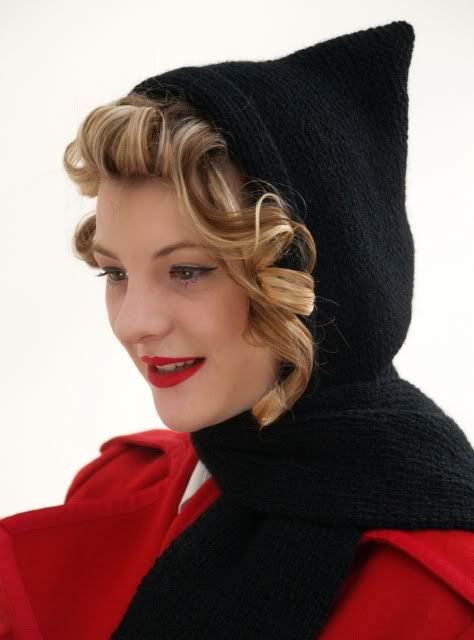 This cute yet stylish pixie hood with attached scarf is the latest pattern that I've just released as part of the
Vintage Christmas Knits
(soon to be Vintage Gifts to Knit) collection. Its knitted in
Berroco
Ultra Alpaca Fine which I've never used before. It was a very nice yarn to knit with. None of the splitting that often comes with alpaca yarns and a certain smoothness on the needle which made it very quick to knit. It also doesn't have as many loose fibres as on a pure alpaca yarn. The whole hood is worked in a basic K1, P1 rib. There is a small amount of shaping at the back of the neck of the pixie hood to ensure a comfortable and snug fit and of course you can make the scarf part as long as you like. With the scarf being attached to the hood it is incredibly warm and so snug. Perfect for keeping out cold, driving winds.
These hood and scarf ensembles were also known as Pixie Hoods, obviously due to the point at the back of the hood where the seams meet. However, a sophisticated girl would also wear a Motoring Hood when out driving in the open top at the weekend. Just like I do all the time!
The individual pattern is available as a PDF download either by following the link here or in the right hand column of the blog or it can be purchased directly through ravelry. The individual patterns from the collection each cost £3.00

Vintage Christmas Knits can now be pre-ordered via the knitonthenet shop or ravelry (ebook only on ravelry). The printed booklet costs £14 (+ shipping) and the e-book version £10.

PLEASE NOTE PURCHASERS OF THE PRINTED OR E-BOOK VERSIONS OF THE BOOKLET WILL RECEIVE PDF PATTERNS AS THEY BECOME AVAILABLE!



All pre-orders of the print version will receive a signed copy

.
Writing this post has made me realise that I haven't added two of the four patterns available to the blog, so I shall be back later to put that right.
for now
Ruby xx