I hope everyone has had a lovely christmas and wishing everyone a wonderful 2010
I hadn't intended to leave blogging over the entire christmas and new year holidays but once the holidays started I decided to stay away from the computer as much as possible and to actually feel like I had some time off. In other ways I didn't to be honest as I had lots and lots of knitting to do, but I rarely get the chance to sit knitting for hours these days, so this was in fact a lovely treat. I will share photos of what I got done in the next post where I can. Some of the knitting can't be revealed as yet unfortunately and I also didn't get the chance to take a lot of photos that were planned either!
I did however, get these lovely Fair Isle gloves photographed. They are knitted in Jamieson and Smith 2 ply Jumper Yarn. The gloves are slightly longer in length than standard so that there is no gap between the glove and the cuff of the wearer's coat.
The pattern will be available later tomorrow and is part of the Vintage Christmas Knits collection which is coming along nicely.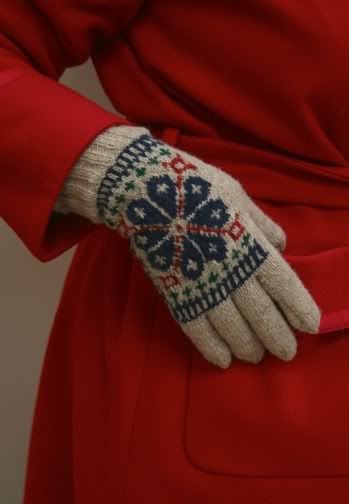 The christmas knits booklet has been delayed slightly but should finally come together over the next couple of weeks. It is also having a name change. Those who have already ordered the booklet will be sent an email offering them the choice of the booklet with its original name or with the new name "Vintage Gifts to Knit". I have had wholesale requests for the booklet but with a name change to give the booklet more longevity on the shelf. Which does make sense. The cover will remain the same in every other way just the title will be different. Which means anyone who has already ordered has got a true limited edition as it will never be printed again as Vintage Christmas Knits.
I am very excited about the number of talks and workshops I'm giving in 2010 so I am going to try and add a section to the blog page with a permanent listing but I thought I would mention a few of the them here:-
27th-27th February -
Unravel
, Farnnham Surrey- two talks - you can see the details on the linked page.
27th-28th March -
Make, Do and Knit
, Liverpool - our own two day textile event in my home town
9th-13th August -
Knit Camp
- 4 workshops - listed
here
1st-4th September
In the Loop 2
- Shetland Museum, Shetland Islands - Keynote Speaker.
I'll try and blog a fair bit this week to get up to date with everything, including a make up post which has been requested by a lot of readers now so I'm going to get it done!
I'm feeling really positive about 2010 - and so delighted to have actually got through 2009 - I truly hope we all have a great one.
for now
Ruby xxx