is to craft if I want to.
I'm sure most of you already know about this particular y
arnstorm
but if you haven't read about it I encourage you to leave my blog (temporarily, of course) and go take a look, and then don't let the Telegraph tell us what we want to do. I love Jane's blog and am affronted at everything the journalist has written but would rather express my opinion as Jane herself has.
Gastro porn apparently. An egg custard to you and I.
Its so simple. I use frozen shortcrust pastry and make two custards at a time.
Earlier on in the day I roll out the pastry, line two pastry dishes and bake both blind for about 15 minutes at 180 degrees. Take out of the oven and leave to cool. Remove baking beans.
To make the custard, break 4 large free range eggs and whisk.
Bring a pint of full cream milk and 4 tablespoons of unrefined golden caster sugar to the boil.
Pour over the eggs and whisk again. Add 1 or 2 teaspoons of vanilla extract.
Pour equally into the two cases.
Grate some fresh nutmeg over each custard.
Return to the oven at same temperature for approximately another 15 minutes.
Remove from oven and cool.
And that's it.
I also made a brioche loaf (using my bread machine!) and boy was it good.
I've also been knitting away at Phyllo and am nearing the end of the second sleeve. As everything to this point has been stocking stitch I haven't bothered taking any more photos yet. Either later tonight or tomorrow I should be picking up the stitches for the yoke and things get more interesting.
I have also treated myself to Rowan's new yarn Cocoon which is just lovely, with a similar feel and tension to Polar. Its very very soft but with a little mohair in it to strengthen it up and stop it from pilling in the way that Polar did. I'm feeling good about it at this point.
I bought it after buying the latest Rowan studio book (book 6) and falling in love with this 'Sloppy Joe'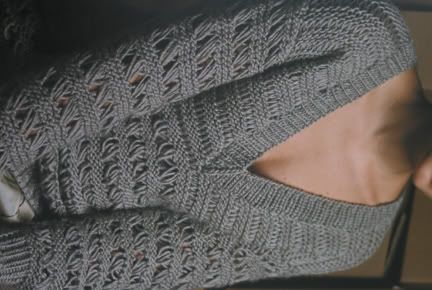 Just the sweater I need right now and should knit up really quickly. Not that I should be casting on anything else right now, but when has that ever stopped any of us?
The
sexy knitters
latest project has also just been decided on and its
Tree Jacket
from Zephyr style which I've been fancying for a while.
I have a large stash of Debbie Bliss Alpaca Silk aran from the John Lewis sale which would be just perfect. I can't seem to get a good photo of the colour though so I'll try again once I have cast on.
I also love the model's hair do and must have a go
Isn't it lovely?
for now
Ruby xx