This last week has just gone by so quick - I can't believe its over a week since I last blogged. And to be honest I haven't got a lot that I can show as yet. I have been working on my sketches and swatches to send to Knitscene. I'm really concerned how long it might take for my package to reach them, I just hope it gets there on time.
One thing I am able to show however is my poppy brooch that I have designed for
knitonthenet's
Knit a Poppy campaign. It is in support of the Royal British Legion's Poppy Appeal and I'm thrilled to have had the chance to do something to help. The download pattern only costs £2.00 with all proceeds going to the Poppy Appeal.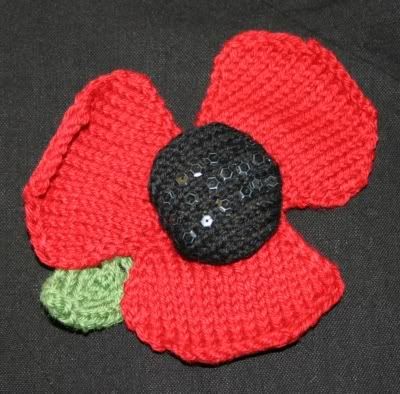 Remembrance Sunday on November 11th has meant a lot to me all my life. Both my granddads where in the Second World War. My 'Albert' granddad - married to Ruby - was only 18 when he was conscripted. He couldn't even read or write and had never been out of Liverpool before and was taken away from his family for five whole years. My 'Billy' granddad became a prisoner of war and after many escapades eventually returned home with his hair white. My great grandfather was killed during the First World War after the ship he served on was sunk. I have always thought it important to remember and to learn.
The pattern uses double knit yarn and is great for using up scraps. You could be really flamboyant and add extra petals or knit the same pattern using bigger needles and chunkier yarn and have a huge fab poppy. I've added black sequins in the centre to look like sparkly poppy seeds, but you can keep it plain if you prefer, and it can easily be completed in a couple of hours - so why not make one for everyone you know!
for now,
Ruby xx