I went to my brother's house at the weekend and had a lovely time playing with my niece and nephew, however I have managed to finally complete Frolic. I'm very pleased. I was scared it wouldn't sit on my shoulders properly but it was just right.
'Dita' is rather more petite than I but it still looks really good. I particularly like the raglan
I knitted it in the round rather than seperate back and front to the underarm, then divided and knitted the back then front seperately.
I knitted the sleeves flat but rather than cast off I left the stitches for the body and the sleeves on holders then picked up with a circular needle and knit the rib in the round.
I received some gorgeous yarn from knitonthenet to use for a design for the next issue. Its Blue Sky Alpaca's Organic Cotton. It is beautiful and I love the colour
Its approximately an aran weight yarn and I'm planning on a 50's shaped jacket with colour and lapels shaped into the waist, single breasted with probably 3 quite large decorative buttons. I'll probably do three quarter sleeves with a decorative cuff. The whole garment will be in a textured stitch, just haven't decided what yet.
I received a wonderful box of goodies from my Secret Pal, a hank of beautiful Blue Sky Alpaca Suri yarn in chocolate brown - it is a mohair type yarn and 2 hanks of a gorgeous rose coloured silk
There were also two soaps which have been clothed in felt which I will use to scent drawers
aren't they just so lovely.
And finally, if all this wasn't enough a wonderful old pattern book, which I have been after for some time. Here's an example of the pages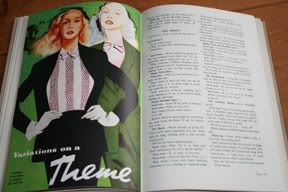 Its just fab. Thank you Emma, you're the best Secret Pal a girl could have.
for now
Ruby xxx