I've been working on my design for knitonthenet.com using Blue Sky Alpaca organic cotton in a gorgeous honey shade. I sampled on 5.5mm and 5mm and decided I liked the firmness of the yarn on 5mm, particularly with it being cotton I really think you need to have really good firm stitches.
I wanted a textured stitch for my jacket but because I intend to mix it with panels of either stocking stitch or reverse stocking stitch I didn't want anything over complicated. I've done some experiments based on 8sts knit, 8sts purl,
I started with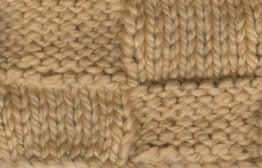 which is 8sts knit, 8sts purl, for 6 rows, then 8sts purl, 8sts knit for 6 rows.
This wasn't really interesting enough and also came out a bit too square, so I tried the same combination but only over 4 rows
which I liked better but still not quite what I was looking for, so after the first 4 rows I moved it all along by 4sts
still only simple but visually much more interesting. Looking at the three together I think you can definately see its the strongest
I'm going to give the jacket a hem rather than edging and build the buttonholes into the patterns edge.
The buttons are just wonderful. I bought them some time ago at an antique and vintage textile fair. They are original early 1950's plastic buttons and I love them
I think they're going to work just great with the jacket. I'll try and finish off my sketches over the weekend but I keep changing my mind about it as I sketch.
I'm hiding away from the workmen in my garden at the moment. Big holes have been dug and now concrete is being poured, I may finally see my extension built yet.
for now,
Ruby xxx