I knitted this sweater by Zoe Mellor in Rowan Handknit Cotton for my daughter a number of years ago..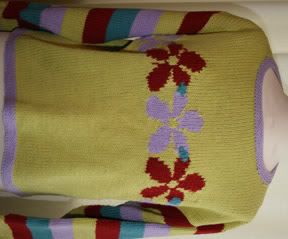 It no longer fits and isn't really cool enough anymore. I have three choices really: -
1) pass it on - but there is no one who it will fit amongst family and friends.
2) pack it up in a suitcase and put in the loft for safe keeping.
3) deconstruct, recycle and re-use.
My real options are numbers 2 and 3 and as loath as I am to take apart something that was my child's I really feel its worse to lock it away for ever to go musty and fade.
What do you all think? Should I let my sentimental side win, or should I make something new?
I received a wonderful pressie off my beloved a few days ago. This great book about vintage fashion
Not only does it provide an excellent historical reference, images are a wonderful source of inspiration. Its a beautiful book.
I have started working on a new design for knitonthenet using a Habu silk yarn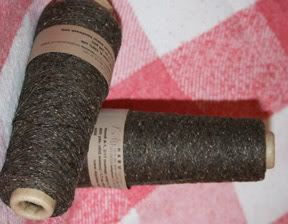 Photos/swatches to follow shortly.
I was reminded that I had some of this yarn when reading
lomester's blog
. She has knitted a great version of my Paper Bag pattern. It looks fab. Made me feel so proud.
On the down side, it has rained all day today - all day.
Anyway, for now
Ruby xx