I've made quite good progress on my Textured Jacket, despite ripping at least three times due to silly mistakes - slipping the stitch off the needle instead of knitting into it being the main offender. I am still having some issues with the facing but its beginning to come clearer. I'll share some of my ideas tomorrow hopefully.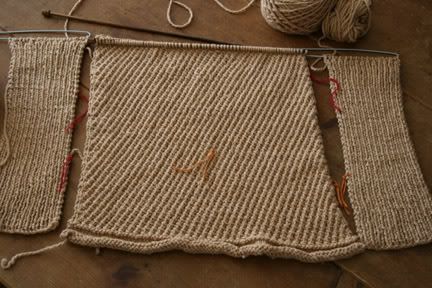 I've got the two side panels done to just below the armhole and the back to the same point. Its quite slow to knit but I'm really pleased with the result. However my shoulder and wrist have started to ache so I thought I'd have a bit of a break and during this break came across my oldest UFO which I'd forgotten all about
This is Flora from Rowan book 35.
As you can probably see I've already made some changes doing a deep ribbed three quarter sleeve instead of the original. Since first starting to knit this I've gone off it a bit but have no intention of ripping all that 4 ply knitting. The main reason I've gone off it, is that its too short in the body for a sweater for me. I also don't like the original neckline. So the plan is
I'm going to cut it open down the front and pick up in the yellow colour and turn it into a cardigan. I'm also going to do a little picot edge round the neckline to go with the hem. I've also still got both sleeves to finish but I think its about time its done, don't you? I've got nothing to lose as I'm not going to finish it as it is.
As I sat and knitted today I was also on tea making duty as the floor of our extension began to appear
We're doing a lot of the work ourselves (the equivalent of the Royal 'we') to keep the costs down. Its really looking good. The bricklayer comes back next week and the walls really start rising then.
Last night I watched Le Hussard sur le toit (or Horseman on the Roof) starring Juliette Binoche and Olivier Martinez.
Ms Binoche looked so beautiful
as she always does. The film ends quite abruptly but I enjoyed it none the less. Juliette Binoche in Chocolat is one of my constant inspirations. It also turned my mind to Amelie which I watched yet again this afternoon and marvelled at both Audrey's beauty and also how well and how frequently frenchwomen wear knitwear. There are a life time of ideas in just one french film.
The sky is blue, there is a delicious gnocci just about ready to eat and my house is growing.
for now
Au Revoir
Ruby xx