The rain hasn't stopped all day today. For those of you in the really badly affected areas I hope everyone is ok. I've also just heard there has been an earthquake in San Francisco. I hope everyone is alright there too.
As a result of the rain no building was done today. The extension was just beginning to look like a room yesterday but looks no different at all today.
My shoulder is SLOWLY improving but knitting time is still severely limited. For some reason any pattern that involves twisting stitches seems to cause me a lot more pain. I don't know whether I exert more tension on the needle when working these stitches or its the change of position that causes the problem but I certainly have to rest far sooner than normally. However, I have started working the raglan on the back of the Textured Jacket. Its quite deceiving as the raglan starts on the ribbed side panels knitted separately, making the back seem very long prior to commencing shaping.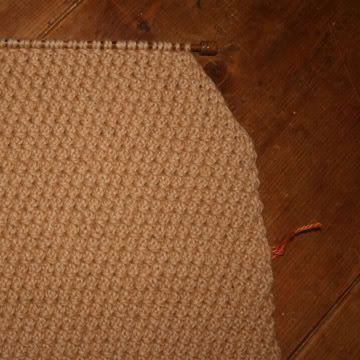 I have put a marker at the point where the armhole level is. I have decided the back neck width should be 6.5 inches which is 34 stitches. There are 78 stitches at armhole level so I have to lose 44 stitches, divided equally on either side of the raglan so 22 stitches on each side.
The remaining length of the back gives me 34 rows to do the decreases. I minused 22 from 34 which leaves 12 rows remaining. I therefore need to work a decrease on every other row 12 times and then on every row 10 times. (i.e. every other row 12 times = 24 rows, and every row 10 times = 10 so number of rows worked =34) I will then leave the remaining 34 stitches on a holder.
I was looking for something at the back of the wardrobe yesterday and out fell a very early sweater I designed many years ago in college.
It is made in double knit pure wool and uses both cable and fairisle techniques. The shaping in the body is hidden in the diamond cables. The garment is also hemmed.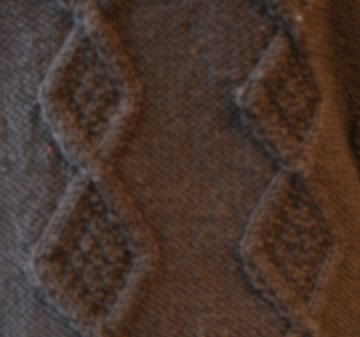 The garment was based on an image I found of medieval tiling that had all faded from bright colours to sand & stone shades and had been worked into a mosaic. I used the fairisle panel to reflect this.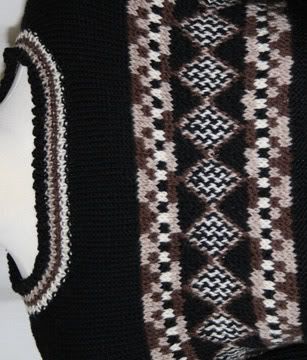 I still think it is really lovely. However ... It no longer fits and I have lost the original pattern. Gone without a trace. What are people's opinions on this garment? Do you think it worth me trying to work out the pattern again? Does it fit with today's fashions? Is there anything I should change? I'm not 100% on the neck but not clear at this point what I would work in its place.
I'm off now to run my daughter to a Harry Potter launch party at our local library which goes on till midnight when the book arrives and is SOLD at the library. An interesting concept.
Hoping everyone is safe and dry
for now
Ruby x