I've been trying to blog for a couple of days but we've been having electrical problems which have messed up the availability of my internet connection. I tried blogging from my mobile phone today which I can apparently do, but when I read the blogger instructions - via my tiny screen on my phone it doesn't post directly to an existing blog - blogger creates a new blog and then you have to transfer from that blog to your own blog - FAR FAR too much trouble.
Enough of all that anyway, I had a great time at Woolfest, its a great show, just not enough time or enough money. The weather though was awful. We stayed in our caravan on the Friday and Saturday nights and I thought we were going to get washed down the hill. We had a number of leaks - one right on top of the cooker. It was a great excuse for sitting in and knitting all day Sunday though.
Have got some many different things to blog about but have been working hard on my 50's textured jacket. I have decided on a different stitch which I spotted in an old 1940's pattern book I have. It gives a lovely slanted cross-over.
It is a 4 row pattern repeat over only 2 sts as follows:
Begin pattern with 1 row knit then:
Row 1(WS): purl
Row 2 (RS): K1, *Sl1, K1, pass slipped stitch back onto left hand needle and knit into the back of it (referred to as cross); rep from * to last st., K1.
Row 3: purl
Row 4: K2, *Sl1, K1, cross, rep from * to last st., K2.
This is what the jacket is going to look like.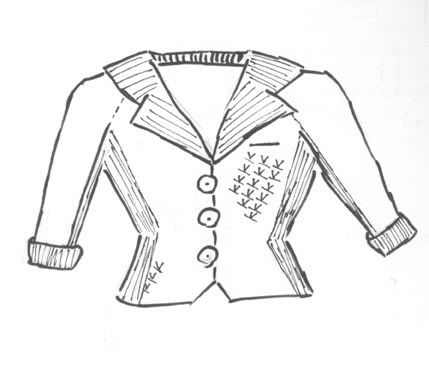 There are ribbed side panels and at the waist I have reduced the needle size down again to create a shaped waist without working decreases. The rib carries through onto the underside of the raglan sleeves. The sleeves are three quarter length with a ribbed cuff.
The jacket is hemmed and faced at centre fronts. I am putting a little fake breast pocket in as this was often a feature in 50's jackets.
I have sized it for the sample for a 40-42 inch chest - see the illustration below for my working schematic for the body pieces.
Click on the sketch to take you to a larger image.
I haven't finished the sleeve yet but I'll show you that tomorrow.
I always take photocopies of my schematic before I start writing measurements on it and use it to start writing out the stitches on a seperate sheet. I'll show my dead, dead simple way of matching the raglans tomorrow when I have the diagrams ready. I've got to work my rib swatch tonight then I can calculate my pattern.
to be continued...
for now,
Ruby xxx