I'll start with the bad news and get it over with. My textured jacket has hit major problems and I'm going to have to have a real rethink about using the 'cross' stitch I chose. The problems really started when I started the raglan shaping on the centre back panel and realised, rather belatedly, that the two raglans did not have the same slope, in fact they were hideously different to each other. Obviously, (now its obvious!) it is because the stitch leans one way. I think I just didn't want to recognise there could be a problem earlier. So its back to the drawing board for a little while on that one.
In the meantime, however, a good friend and selfless knitter, has completed a different pattern I have been working on. It is worked in Rowan 4ply cotton in Aegean. It isn't completely finished yet but this is what we have up to now
I'll show you sketches and the finished article later in the week. It really is lovely. Thank goodness, a Success.
To calm me down after intense frogging and fretting I did a little sock knitting, using some Regia (I think) sock yarn that I've had for a while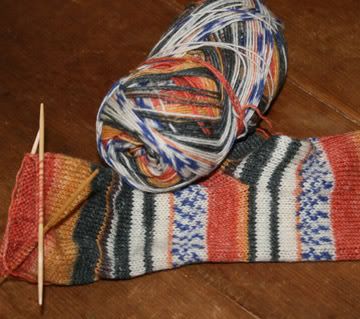 nothing fancy on this one, just thoughtless stocking stitch rounds that I could do whilst watching Rutger Haur in the 1986 original of The Hitcher. Please don't watch the remake, watch this one. It stands the test of time so well and in a film about a serial killer you don't see a single murder except for one and no gratuitous blood and gore but it chills you.
And talking about Danish things,
Iris G
, led me to this wonderful book
you can see a whole load more images on
Fleegle's blog
It all looks just gorgeous. I am investigating purchasing possibilities as I type!
So I'm off now to brush up on my danish
for now
Ruby x