Went a bit sluggish yesterday thinking about the prospect of today. I was taking dad to the hospital for biopsies and ultrasound. We had to be out of the house at 6am and got home about 5pm. It was a long day and we don't really know alot yet. It will be Friday of next week before we find out what decisions have been made and what action is to be taken. He's continuing to take it all in his stride.
Didn't get any knitting done as decided to take my mum to the Dee Estuary to watch the herons, swifts, swallows, & house martins all at play. It was fantastic watching them all. I've never seen so many house martins. I, of course, hadn't thought to take my camera with me as it hadn't seemed the most necessary thing to pack and to be honest I doubt if I would have caught the house martins on camera but I could have got the heron.
I have managed to take a photo of the wonderful things that
Emma
my secret pal sent me in her last parcel
They are as follows:
A skein of Ocean Wind Knits 100% merino wool, hand dyed in Canada, a skein of Koigu KPM in a beautiful Teal Green sock weight, a skein of Malabrigo Kettle Dyed pure merino in a delicious plum/aubergine shade all from yarn shops across Toronto where Emma went on holiday.
Also THREE sets of DPNS - glorious, a set of colour coordinating stitch markers, colour coordinating embroidery threads AND a colour coordinating copy of Adorn magazine which I have wanted to get my hands on for ages but is not available in the UK. The pot at the back of the photo is a hatpin holder which could be used to hold needles, but the piece de resistance is a beautiful hatpin reflecting all the colours in the yarns. Just wonderful, all of it. Thank you so much Emma.
Its all getting technical tomorrow. I am working on the 'mitred facings' of the textured jacket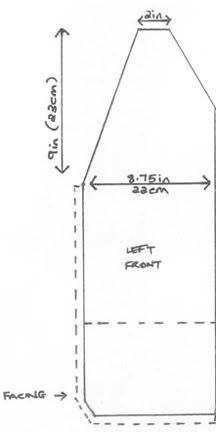 so I'll show you the progress on this before moving up to the raglan shaping.
for now
Ruby xx